Pasco-Hernando State College
People Respecting Individual Differences Equally (PRIDE)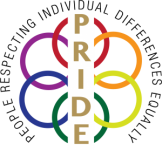 Available at :
Spring Hill Campus, West Campus
The PRIDE group promotes education, unity, awareness and change. The organization also provides a respectful, safe place to support all students on campus, but especially LGBTQ+ students and allies.
PRIDE Meeting Information
Spring 2022 PRIDE meetings will be held collegewide using Zoom. 
West Campus PRIDE club meeting schedule is the default for the virtual collegewide club-specific meetings unless otherwise noted on the club campus-specific homepage.