Pasco-Hernando State College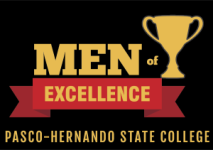 Available at :
East Campus, North Campus, Porter Campus, Spring Hill Campus, West Campus
Men of Excellence represents diversity, faith, education, and leadership. MOE exemplifies academic and personal development of male and female college students. Membership is open to any PHSC student to assists members with leadership growth and connectivity to the campus and community.
Interested in Learning More about Men of Excellence?
Complete the form below.