Pasco-Hernando State College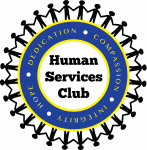 Available at :
East Campus, North Campus, Porter Campus, Spring Hill Campus, West Campus
The Human Services Club provides a medium for cooperation and communication among area human service/mental health professionals, faculty and students.
Human Services Club Meeting Information
View each campus chapter page for club meeting details. Club meetings are held virtually via Zoom every Wednesday at 5 p.m. The meeting schedule is available on the Porter Campus chapter page.
Meeting ID: 829 2118 5946 
Passcode: !LsT%83* 
Membership Form