Pasco-Hernando State College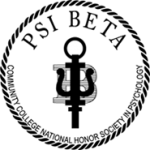 Available at :
East Campus, North Campus, Porter Campus, Spring Hill Campus, West Campus
Psi Beta promotes, stimulates, encourages and recognizes general scholarship and interest in psychology. Current requirements include: 3.25 overall grade point average, an earned B or better grade in all psychology courses completed, have completed 12 overall semester hours at PHSC, including Introduction to Psychology. The chapter holds various social, community and educational activities.
Meetings
For meeting dates and times, view the Porter Campus chapter page.
Questions?
Complete the form below.