Pasco-Hernando State College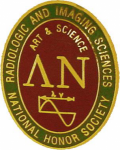 Available at :
West Campus
Lambda Nu
Lambda Nu is a national society that promotes academic scholarship, research, and investigation in the radiologic and imaging sciences. They also recognize exemplary scholarship. Additionally, there is a Radiography Club available for individuals interested in this field.
To qualify for membership in Lambda Nu, students must meet the following eligibility criteria.
Students must have completed a minimum of two consecutive semesters in the Radiography program.
The student must maintain a grade point average (GPA) of 3.25 or higher in the radiography courses during these two consecutive semesters to be eligible for membership.
If a student's GPA falls below 3.25 for two consecutive semesters, their membership will be revoked. However, if the student's GPA returns to 3.25 or higher for two consecutive terms, they may reapply for membership.
Questions?
Complete the form below.