Psi Beta National Psychology Honor Society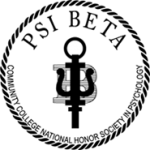 Available at :
North Campus, Porter Campus, West Campus
Psi Beta promotes, stimulates, encourages and recognizes general scholarship and interest in psychology. Current requirements include: 3.25 overall grade point average, an earned B or better grade in all psychology courses completed, have completed 12 overall semester hours at PHSC, including Introduction to Psychology. The chapter holds various social, community and educational activities.